Listen to episode 1 of Direct Current – An Energy.gov Podcast, then subscribe on iTunes or wherever you download podcasts!
EVER CONSIDERED GETTING SOLAR PANELS FOR YOUR HOME? IF SO, YOU'RE NOT ALONE.
Rooftop solar is growing at an incredible rate, as more and more Americans look to save on their energy bills using clean, free power from sunshine. Sounds great, right? Problem is, bureaucratic red tape and added costs can make going solar a lot more expensive and time-consuming than it needs to be.
We explain why — and what the Energy Department is doing about it — in this, the first-ever episode of Direct Current – An Energy.gov Podcast!
Join our hosts, Matt Dozier and Allison Lantero, as they investigate the sneaky "soft costs" that are a big chunk of rooftop solar prices, delve into the archives for a look at the turbulent times around the Energy Department's creation, and contemplate some alternatives to the name "Direct Current."
A BRIEF HISTORY OF THE ENERGY DEPARTMENT
IMAGE
We kick off this episode by taking you back in time to the 1970s, when the U.S. was deep in the throes of a crippling energy crisis. Allison follows the path from a tangled mess of energy and nuclear agencies to the establishment of one cohesive Energy Department in 1977, led by Dr. James R. Schlesinger.
Curious about how the Department became one of the nation's leading supporters of cutting-edge science and technology? Check out some more key milestones along the way:​
August 13, 1942 – The Army Corps of Engineers establishes the Manhattan Engineer District to develop and build the atomic bomb. Uranium isotope separation facilities are built at Oak Ridge, Tennessee; plutonium production reactors are built at Hanford, Washington; and a weapons laboratory is set up at Los Alamos, New Mexico.
August 1, 1946 – President Truman signs the Atomic Energy Act of 1946 transferring Manhattan Project assets and responsibilities to the civilian Atomic Energy Commission.
October 1, 1977 – The Department of Energy is activated. Bringing together a score of organizational entities from a dozen departments and agencies, the new department is also given responsibility for the nuclear weapons program.
January 30, 1987 – Secretary John S. Herrington announces President Reagan's approval of construction of the Superconducting Super Collider (SSC), the world's largest and most advanced particle accelerator.
September 23, 1999 – Department of Energy-funded researchers win 43 of the R&D 100 Awards for the top technological achievements of the year.
October 26, 2009 – Secretary Stephen Chu announces $151 million in funding for 37 research projects awarded through DOE's recently formed Advanced Research Projects Agency-Energy (ARPA-E).
December 12, 2015 – Secretary Ernest Moniz participates in the UN Climate Change Conference (COP21) in Paris, France, where more than 190 countries reach an agreement on the need for action to reduce global greenhouse gas emissions and slow the effects of climate change.
Learn more about the origin and evolution of the agency with this detailed Timeline of the Energy Department.
SOFT COSTS: THE KEY TO CHEAPER SOLAR POWER
Image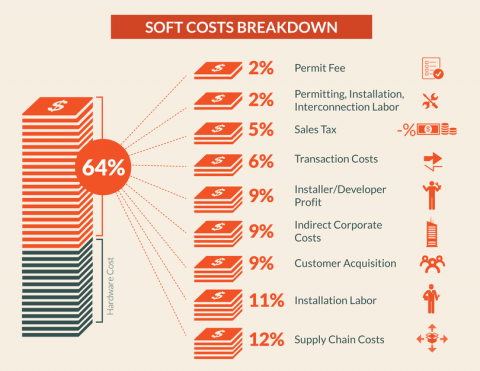 You read that chart right. Soft costs (everything besides the solar panels) now make up more than two-thirds of the cost of an average rooftop solar energy system. But where does all that money go?
The folks at the Energy Department's SunShot Initiative made this illustrated guide to how soft costs drive up the price of rooftop solar, and the many ways the agency is working to lower those costs to make solar cheaper and more accessible for everyone. Check it out!
ONE MILLION SOLAR INSTALLATIONS (AND COUNTING)
IMAGE
Solar energy is taking the nation by storm. A recent report from the Solar Energy Industry Association found that the U.S. passed one million solar installations across the nation in early 2016, with that number projected to double in the next two years.
In the episode, Matt talked to Chris Carrick with the Central New York Regional Planning and Development Board, which has had a great deal of success encouraging the growth of renewable energy — solar in particular — in upstate New York. Chris talked about the role "Solarize" workshops have played in making solar an increasingly common feature in communities across the state.
Learn more about the Solarize NY campaign here.
If you enjoyed this episode, don't forget to subscribe through iTunes or wherever you download podcasts.